First and Second Quarter Meeting Summaries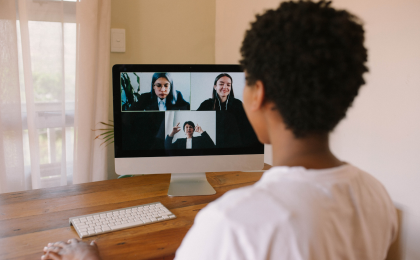 Did you miss a meeting or do you need a refresher? Read our meeting summaries for the first and second quarters.
The MISHC Mitral Physician Meeting was held on March 3rd from 6 pm – 7:30 pm. Dr. Michael Grossman welcomed attendees to the meeting. Dr. Gorav Ailawadi presented a data review on TEER and TMVR in Michigan and Dr. Stan Chetcuti shared the proposed TEER and TMVR report structure. Dr. Duane Berkompas went over the proposed TEER and TMVR year 1 goals. Dr. Charles Schwartz shared suggested 2022 – 2023 meeting topics. Finally, Dr. Michael Grossman shared MISHC updates. Thanks to our attendees for your engagement; your feedback is helping to shape the first year of mitral reporting and quality improvement at MISHC.
The MISHC Coordinator/Abstractor Meeting was held on March 16th from 1 pm – 2 pm. Sheryl Fielding welcomed attendees and introduced Donna Bonaldi-Swan who is a quality specialist at Henry Ford Macomb Hospital. Donna shared, "Quality Initiative HFM: Compliance with KCCQ." KCCQ questionnaires are important in that they help assist in patient selection and assist in the analyses of if the patient will benefit from the procedure. By looking at the patients' answers to questions both before and after the procedure, how the procedure impacted the patient's quality of life can be evaluated. Learn more by reading Henry Ford Macomb Hospital's Site Spotlight in this issue of the newsletter. Thanks to Donna for sharing her team's story! Do you have a project or other success you would like to share via a meeting or this newsletter? Contact the Coordinating Center at info.mishc@umich.edu.
Annemarie Forrest, MISHC Program Co-Manager, shared tips for navigating the new public MISHC website. Reports and other private information will still be housed behind the password. You can use the "Member Login" button to access this information. We encourage you to share any website issues or errors with us. We would love to see your cath lab teams in action! Share your photos with us to be featured on our website. We'll be outlining features of the website in each of our MISHC newsletters. Read on for information about our Best Practices section which is featured in this quarter's newsletter.
Sheryl went over report findings and updates and a public reporting update. A new valve, the Abbott Portico Valve, was FDA approved in late September of 2021 and has been added to the Device options in the MISHC TAVR reports. Some highlights included:
Version 3 is asking for prior valve surgery valve diameter sizes for both TAVR and TMVR. Check the EMR for this information and document it. If you cannot find it, please work with your physicians to get this information.
34% of procedures do not have residence data documented on 30-day follow-up and 44.5% on 1 year follow-up.
A home health aide can be a family member or anyone who is helping a patient. It does not have to be a person in a paid position.
KCCQ Completion is a CMS requirement for payment as they want to see the scores to ensure that they are paying for a procedure that actually improves the quality of life for the patient. Please make sure you are in compliance by completing KCCQs at baseline, 30 days, and 1 year.
TVT Public Reporting is live. You can look on the STS Public Reporting website for ratings. 7 Michigan sites have a rating that posted on the website. All received a 2-star rating. A few sites also opted in without meeting the criteria for a rating. If you opted in to public reporting but did not meet the requirements, your rating will show zero eligible procedures and will not give a rating.
Sheryl also shared that she is willing to help sites identify quality projects they can work on based on their data.
The MISHC Coordinator/Abstractor Meeting was held on May 25th from 11 am – 12 pm.  Sheryl Fielding welcomed attendees to the meeting and introduced Munson Healthcare's Structural Heart Coordinator, Deb Provost, BSN, TVT/MISHC Coordinator, Andrea Coyne. Deb and Andrea presented on data quality and collaboration. Don't miss the site spotlight on Munson Healthcare in this issue of the newsletter.
Annemarie Forrest Co-Program Manager for MISHC shared information on the new Michigan Cardiac Rehab Network. There is room for improvement in statewide trends and variation in cardiac rehab participation across Michigan. The Michigan Value Collaborative (MVC) and BMC2 have joined forces to create the Michigan Cardiac Rehab (MiCR) Network. The goal of the network is to equitably increase participation in cardiac rehab for all eligible individuals in Michigan. A goal has been set to increase CR participation to 40% by 2024 for all eligible conditions. This excludes CHF. MiCR has resources to help you achieve this, including MVC cardiac rehab reports and a new best practices toolkit.  A dedicated website with resources will be coming soon. Cardiac rehab reports include information on collaborative-wide cardiac rehab use within 1 year as well as quarterly trends, mean days to first cardiac rehab visit, and mean number of cardiac rehab visits within 1 year. We encourage you to share these with your teams.
Sheryl Fielding shared MISHC TAVR updates. Reports will be going out soon. We will be doing 3-year reports and risk-adjusted reports. New this year, we will be doing performance snapshots. This is a spreadsheet that includes MISHC goals, outcomes, and VBR goal performance with color coding to show how well you are performing. These are similar to the reports you get at the end of site visits and can help determine what you might like to choose as your quality projects. 2022 Q1 will be the first rolling 4 quarters report and also the first TEER and TMVR reports.
The MISHC TAVR Physician Meeting was held on June 22nd from 6 pm – 7:30 pm.
Dr. P. Michael Grossman welcomed participants to the meeting and then shared information on MISHC TAVR KCCQ data. MISHC is outperforming the nation on KCCQ completion at baseline. MISHC also outperforms TVT for survival and QOL outcome at 30 days and 1 year.
Dr. Grossman welcomed Suzanne V. Arnold, MD, MHA from Saint Luke's Mid America Heart Institute University of Missouri – Kansas City. Dr. Arnold presented "Importance of Assessing Quality of Life in the TAVR Population." She shared that the transcatheter space values health status and quality of life as an outcome and that the KCCQ allows us to evaluate how these treatments impact patients.  She highlighted what the KCCQ summary score represents, how to interpret it, what constitutes a favorable outcome, and how to use the KCCQ clinically. Dr. Arnold outlined how a change in the summary score is associated with the risk of mortality and heart failure hospitalization. KCCQ can be used clinically for patient selection/risk assessment (pre-TAVR) and assessment of response to treatment (post-TAVR). Integrating survival with KCCQ after TAVR provides a more complete picture of patient outcomes. Watch Dr. Arnold's complete presentation on our YouTube channel.
Dr. Devraj Sukul presented "Predictors and Variation in Cardiac Rehabilitation after TAVR." He shared that:
Approximately 1/3 of patients who undergo TAVR and are discharged alive attend at least 1 session of cardiac rehab within 90 days of discharge.
Age, smoking status, dialysis, atrial fibrillation/flutter, 5m walk times, and insurance status are associated with cardiac rehab participation.

Complications such as stroke, PPM, and vascular complications were not significantly associated with downstream cardiac rehab use.

Hospital quality as measured by patient survey are associated with downstream cardiac rehab use after TAVR.
There was substantial variation in cardiac rehab use after TAVR across TAVR hospitals that persisted after accounting for patient case mix.
These findings suggest that variation in cardiac rehab participation after TAVR is not due to significant differences in hospital quality and processes of care – two important targets for future interventions to improve cardiac rehab after TAVR.
Regular data feedback will enhance QI efforts to improve cardiac rehab use. The MiCR network is a collaboration between BMC2 and the Michigan Value Collaborative (MVC). The network has created a cardiac rehab best practices toolkit which is available on bmc2.org. Statewide initiatives have also been developed. You can learn more about MiCR and the resources available at bmc2.org. You can also view Dr. Sukul's talk in its entirety on our YouTube channel.
Dr. Himanshu Patel shared MISHC updates. The proposed 2023 VBR goals are:
Rate of NYHA Heart Class documentation at 30-day follow-up at ≥ 92%.
Number of cases with contrast dose ≥ 3 CrCl (exclude TAVR procedures with a concurrent procedure) at a rate of ≤ 5%.
Then, vote for ONE of the below as the third VBR goal. Each site will get one vote. Ballots will be sent to physician champions and site coordinators.
Rate of KCCQ matched pairs at baseline and 30-day follow-up at ≥ 90%.
OR
1-year TAVR follow-up completion at ≥ 90%.
Measurement periods for all goals are from 1/1/2023 – 6/30/2023.
3Y Risk Adjusted TAVR Reports are now available on the website for those who have been entering data for the full 3 years. Contact your coordinator for access to these reports.
The MI TVT2 Educational Meeting was held on June 24th from 10 am – 11 am. We welcomed Roseanne Palmer, MSN, RN of Dartmouth Hitchcock Medical Center who presented "Shared Decision: Goal Defined Care." Roseanne explained that using shared decision-making is a way to advocate for patients by arming them to make the decision that is right for their own lives. It is always possible to perform a procedure but in doing so, are we reaching the patient's goal? We need to overcome our bias and tease out what is important to patients by asking them questions like, "What is most important to you?" Tools like the Ottawa Personal Decision Guide, CardioSmart, and other similar decision guides can aid patients in determining what is most valuable to them.
This question should be asked at every opportunity and documented each time to provide transparency for all providers involved in the patient's care. Shared decision-making documentation should include the interventional consideration, surgical consideration, and patient goal of care. When documenting, the registry requires information on if you utilized shared decision making as well as if you used a decision aid or other tool, and which tool you used. By providing this information, you are allowing the registry to learn from the data they collect.
There are regulatory guidelines for shared decision-making. Sometimes shared decision-making can be confused with informed consent. The difference between the two is that the conversation around informed consent is unilateral while the conversation around shared decision-making is bi-directional. Also, with shared decision making, treatment is collaborative while with informed consent, it is prescribed.
Follow-up should be done with patients at 30 days and at 1 year to determine if we have been successful in reaching the patient's goal. In summary, it is important that we consider what is important to patients, ensure that all viable treatment options have been discussed, verify that the patient understands the extent of the risks and benefits of their treatment, and make treatment decisions transparent to all team members across all services. By doing this, we can truly work with patients and allow them the ability to make the decision they feel is best for them and their own unique experience.